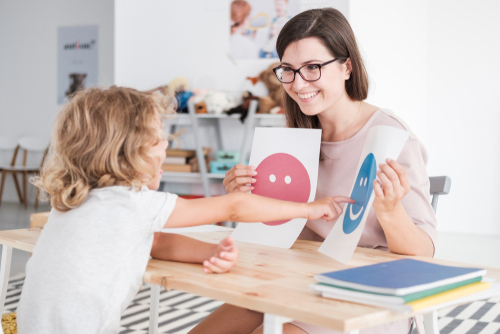 A School Counselor is someone who works directly with students to help them develop the academic and social skills they will need to be successful in school. They are generally employed in public and private schools, working closely with teachers, students, parents and staff.
What Are The Degree Options To Become a School Counselor?
In most states, school counselors are required to possess a master's degree in school counseling or a related field and have a state-issued license. Some of the degree options for school counseling include:
Master of Arts or Science in School Counseling
Doctor of Philosophy in School Counseling
Master of Education in School Counseling
Educational Specialist Degree in School Counseling
Can I Earn a Family Therapy Degree Online?
An increasing number of colleges and universities are now offering highly regarded master's and doctoral programs in school counseling in online and hybrid learning formats. These programs are designed to meet the need of todays busy student. Some of the best online degrees include:
Seton Hall University – Master of Arts in School Counseling
Wake Forest University – Master of Arts in Counseling with a Specialization in School Counseling
University of Texas at Tyler – Master of Arts in School Counseling
How Much Do School Counselors Earn?
The average yearly salary for school counselors was $53,370 in May 2014. The lowest 10 percent earned less than $31,960, and the highest 10 percent earned more than $86,610.
What Are The Daily Responsibilities of a School Counselor?
According to the BLS, School Counselors are responsible for the following on a day-to-day basis:
Evaluate students' abilities and interests using aptitude assessments, interviews, and individual planning
Identify problems that lead to diminished academic performance, such as poor classroom attendance rates
Guide students to overcome social or behavioral problems through classroom guidance lessons and counseling
Counsel individuals and small groups regarding relevant student and educational needs
Work with students to gather organizational and time management skills
Help students create a plan to achieve academic and career goals
Collaborate with teachers, administrators, and parents to help students succeed
Teach students and school staff about certain topics, such as bullying, drug abuse, and planning for college or careers after graduation
Report possible cases of neglect or abuse and refer students and parents to resources outside the school for additional support
School Counselors are a critically important part of every schools educational team. They work in schools ranging from K-5, all the way up to high schools. The scope of their responsibilities vary depending upon the age of the students they work with, however at all levels they work closely with teachers, students, parents and staff to make sure that each students needs are met.