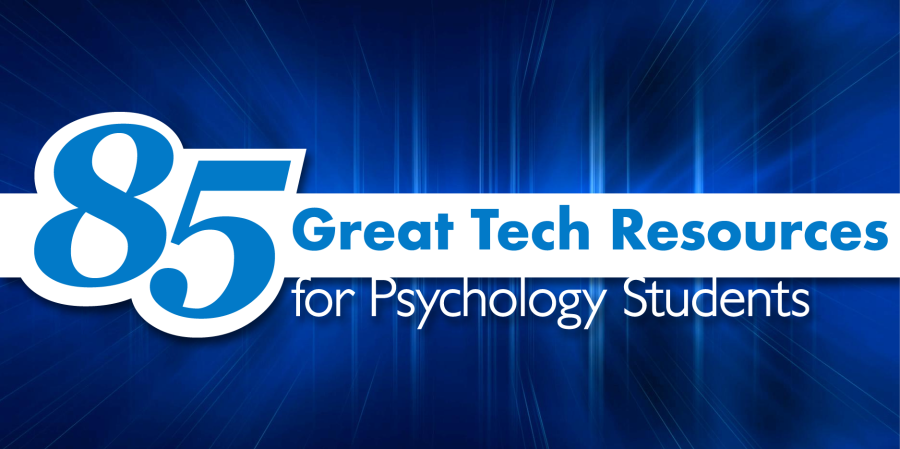 May 2015
Psychology is one of the most sought-after majors at colleges throughout the United States. Some students pursue a Bachelor's Degree in Psychology as a springboard to a career in professional Psychology, while others will move on to different areas of study and practice.
Regardless of your long-term goals, there are a number of resources available for psychology students at the undergraduate and graduate levels. As technology advances, students report that they take advantage of tech resources more and more often. Things like mobile apps, online textbooks, important websites, study skills resources, and online groups help students stay on top of their studies and on top of the field.
The goal of this guide is to outline the best technological "must-haves" for students of psychology and to highlight some of the most cutting edge technology to help students succeed academically, socially and professionally. While some resources will be more relevant for students at the undergraduate or graduate level, all students will find these tools an important part of the academic process.
Table of Contents:
Chapter 1: Websites
Chapter 2: Apps
Chapter 3: Blogs
Chapter 4: Forums / Groups
Chapter 5: Online Organizations
Chapter 6: Online Text and Publication Services
Chapter 7: Research Resources
Chapter 8: Test Preparation and Study Aids
Chapter 9: Online Paper Writing Resources
Chapter 10: Additional Resources

Alley Dog – This website is the self-proclaimed "best friend of Psychology Students." It is a wide-ranging resource for students and professionals alike with information such as a psychological glossary, information on jobs, information on degrees and much, much more.
BBC Science: The Human Mind – This website offers in-depth information outlining many different areas of practice and study in the field of Psychology.
Cognitive Neuroscience Society (CNS) – The CNS is an international academic society focused on multi-disciplinary approaches to cognitive brain function.
Online Psychology Laboratory – OPL is a Psychology Student Resource site that helps students understand Psychology as a science. The site offers students interactive resources filled with peer-reviewed materials like online studies, correlational studies, data sets, research demonstrations, and teaching aids.
Psyche Central – This website is among the largest independently run Informational Psychology sites. It is an excellent resource offering information for Psychology students and professionals alike.
Psychology Today – This is the website for the popular publication Psychology today, published every other month. The goal of both the website and the publication is to make psychology and psychological topics more accessible and usable by the general population.
Simple Psychology – Simple Psychology is a pool of resources, articles, and guides for many of the sub-fields within the major field of Psychology.

3D Brain – This app provides an interactive and informational view into different components of the brain and how they work together. Both psychology majors and psychological professionals can learn how each brain region functions, what functions it governs, and how it interacts with the other regions of the brain to influence actions and behavior.
APA Journals – This app allows users to stay up-to-date on the most recent research and literature published by the American Psychological Association.
AP Psychology Prep – This app, created by Brainscape, helps students competently learn from more than 1,000 relevant flashcards covering the topics, research, and theories listed on the College Board's official AP Psychology outline.
Examination of Professional Practice of Psychology Flash Cards – The EPPP flashcard app consists of almost 3,000 "flashcards" covering all of the content areas covered on the EPPP examination. The app was designed by a licensed psychologist and is responsive enough to help each user focus on areas they need the most.
Psych Drugs & Medications: Prescription Psychiatric Medication Pocket Guide in Psychiatry –  Professional psychologists can use this app to gather information about various medications and any possible interactions between multiple medications.
PsychExplorer – This app includes research articles, interviews with psychology innovators, and a library of respected blogs.
Psych Guide – This searchable app outlines many of the topics that are included in a typical psychology education.
Psych Test Hero – This second version app allows psychology students to prepare for psychology tests and quizzes with ease.

Advances in the History of Psychology – This blog is devoted to looking at the historical aspects of psychological sciences and how the field has changed over the years.
Bad Science – Although not a psychology blog, Bad Science is an important resource for all psychology students as it will help psychology majors tease apart good and bad research.
Brain Blogger – The goal of the contributors who make up Brain Blogger is to challenge the traditional biomedical model and its associated web reporting. The contributors use the influential biopsychosocial model, created by Dr. Engel, as the guiding principle.
Brain Lady Blog – Written by Dr. Susan Weinschenk, Ph.D., the goal of this blog is to better understand how to apply psychology and brain science research to understand how people think, work, and behave.
Channel N – This blog showcases brain and behavior videos that are available online for free, such as lectures, documentaries, art films, educational videos, user-generated public service announcements and much more. The goal of this blog is to compile a reviewed database of relevant videos to save time having to scour the Internet.
In The News – A fascinating blog, written to outline the many interesting details of when law and psychology meet, In the News covers topics including forensic psychology, criminology, and law.
Mind Hacks – This blog works to collect valuable psychological articles, research studies, websites and more for psychology students and professionals.
PsyBlog – In this blog, University College London researcher Jeremy Dean posts various articles relating to the empirical and scientific aspects of modern psychology. The primary goal of this blog is to show psychology professionals, students, and laypersons how important the scientific aspect of psychology is to the field.
Psychology Today Blog: The Essential Read – A blog written by the many writers at the popular media outlet, Psychology Today. Topics covered include modern psychology trends, research findings, and many more.
Research Blogging – An excellent blog for psychology students, which publishes and reviews peer-reviewed journal articles.

All About Psychology Facebook Page – A Facebook page for students and educators in the field of psychology.
American Psychological Association Facebook Page – The APA, an association that works to advance psychological science to promote health, education and human welfare, runs this Facebook page for its members.
American Psychological Association Linked In Page – In addition to their Facebook page mentioned above, this LinkedIn page is also managed by the APA and serves to connect psychology professionals, researchers, and students.
Association for Psychological Science Facebook Page – The Association for Psychological Science (APS), a nonprofit organization dedicated to the advancement of scientific psychology, also uses Facebook to comment with its members.
Elsevier Psychology Facebook Page – This Facebook page is designed to allow professionals and students to connect with fellow researchers, share insights, and keep in touch with the latest news, books, and journals in their field.
Psi Chi Facebook Page – Students members of Psi Chi, The International Honor Society in Psychology, can search for and connect with the Psi Chi chapter at their college or university via this Facebook page.
The Psychology Forum – This website is a fully functioning forum where psychology students and professionals can discuss issues related to psychology and mental health.
Psychology Students Network on Linked In – This LinkedIn Page for the Psychology Students Network supports and connects psychology students throughout the country.
Psychology Today Facebook Page – This Facebook page for the popular media publication, Psychology Today, is "liked" by more than 5.5 million people and is full of daily discussions about popular and current issues.
The Student Doctor Website: Psychology Forum – The Student Doctor is a series of forums for students studying individual areas of healthcare and medicine. The Psychology page is designed to allow Psychology Students to connect, share information and discuss topics.

The American Psychological Association Student Affiliate Memberships – This website is a great resource for psychology majors and provides a way for students to become involved with the APA.
American Psychological Association of Graduate Students – The mission of APAGS is to build "a better future for psychology by serving as a united voice to enrich and advocate for graduate student development."
American Psychiatric Association – The American Psychiatric Association is the world's largest organization for professional psychiatrists and psychiatric students.
Association for Psychological Science – The Association for Psychological Science (previously the American Psychological Society) is a nonprofit organization dedicated to the advancement of scientific psychology and its representation at the national and international levels.
Campusbug – This website is designed to be similar to Facebook, however, it is to be used for academic socialization. The goal of Campusbug is to provide social networking tools to students around the world.
Psi Beta: National Honor Society in Psychology for Community and Junior Colleges – Psi Beta's mission is "to encourage professional development and psychological literacy of all students at two-year colleges through promotion and recognition of excellence in scholarship, leadership, research, and community service."
Psi Chi – The International Psychology Honors Society now has an online presence for qualified students. Members gain academic notoriety as well as access to three publications and over $400,000 in annual awards and grants.
Student Life Network – The Student Life Network, also similar to the premise of social networking like Facebook, helps students build a community-based network targeting fellow students.

About Education: Full Text Psychology Journals – This free service offered by the About.com Education site allows students to access a wide range of psychology journal articles.
Amazon Textbooks – The online leader has created a division that rents, sells, and buys used textbooks.
APA PsychArticles – This online service allows students to access thousands of psychology articles from anywhere they have Internet access. Students can pay per article or buy 24 hours of unlimited article access.
Chegg.com – One of the most money-saving trends that occurred for students in the past ten years is the creation of textbook rental services. Chegg.com is the leader in textbook rentals and recently the company has branched out to offer note-taking and homework assistance.
Course Smart – This leader in eTextbooks and Digital Course materials makes college cheaper and more accessible for psychology students.
The Online Books Page – This University of Pennsylvania created this website to offer more than 30,000 books that anyone can read for free online, with the option to search by title or author.
Open Book Project – This academic project was created specifically for the academic community so students can find free textbooks and other open-source education materials.
Questia.com – The Online Questia library contains full textbooks and journal articles as well as writing help and research assistance. Students can enroll as an annual member (just under $100), a semester user (4 months for just under $50) or a monthly member (just under $20).
Text Swap – This website offers a free textbook exchange service for those students who wish to trade their used textbooks online.

About Psychology: Psychology Experiments and Research Methods – This resource is excellent for students who are interested in psychological research. You can read about previously conducted studies or get ideas for your own research.
Online Psychology Laboratory (OPL) – OPL provides students and educators with interactive resources for the training of empirical psychological science. The data provided is all peer-reviewed materials, which include online studies and correlational studies, large data sets, demonstrations, and teaching aids.
Psychological Research on the Net – This website is a comprehensive listing of research topics in psychology, including links to many of the articles. It is an excellent resource for both professional psychologists as well as students.
Ref Desk – A thorough online fact-checking website for students and professionals.
Simple Psychology: Psychology Resource Methods – This website allows psychology students to have access to a variety of helpful research tools. Students can learn to conduct and evaluate psychological research.

Graduate Record Exams (GRE) Test Prep – The GRE is the standard test taken by Psychology Undergraduates who plan to pursue graduate training in the field. Educational Testing Services (ETS) offers study aids and guides for interested students.
Coursehero.com – This is a large library of online study guides, tutors, prepared flashcards, eCourses and more on a wide variety of Psychology concepts.
Cram.com – An online resource for students who need a little extra help preparing for a midterm, test or final. This service allows students to create customized flashcards for more efficient test preparation.
Quizlet – This online resource takes learning and makes it fun. The many different options such as flashcards, tests, and study games make the learning process more fun and more engaging for students.
Spark Notes – Spark Notes has been in existence for several years and has evolved into a strong online presence. They offer notes, study guides, test preparation and a number of other helpful resources.
Study Hack – A blog based website that decodes the methods of studying and completing coursework that leads to the greatest success for students.
Studymode.com – An website that builds upon a library of almost 2 million student-submitted course notes, research papers, essays, term papers, and book reports, as well as professional supplied AP notes, to help students with exams, and book notes to outline famous works.

APA Style.org – The APA's site, where students can learn more about writing scholarly papers in APA format.
Citation Machine – The Citation Machine helps takes the guesswork out of creating an APA formatted citation.
Essay Punch – This website offers interactive online essay-writing tutorials to help students organize their ideas and improve their writing skills.
Grammarly – Fix mistakes, catch typos and avoid plagiarism by using this leading website. It is recommended that students check their work for any possible plagiarism before submitting it to a professor.
Grubba – This website helps students create a database to keep ideas and information organized. Student writers have the opportunity to easily create a database and share with other people.
Info Please Writing Skills –This site is a library of how-to guides for writing a better paper or essay.
Purdue Owl APA Online Writing Lab – This online research paper resource helps students understand the process of writing a scholarly paper in APA format.
Simple Psychology: Psychology Essay Writing Guide for Students – This site is a guide for Psychology majors for writing scholarly psychology papers.
Wiki How: How to Write a Research Paper – Visit this site to find an easy to use guide on how to write, cite and format a proper research paper.
Wridea – Wridea is a web service to help students and researchers remember ideas, organize and improve those ideas, and allow students the chance to share their ideas with others.


About.com: Psychology – A varied resource offering information on many different topics in the field of psychology.
APA Accredited Graduate Programs – A complete list of all graduate Psychology programs that have earned APA accreditation.
American Psychological Association – The American Psychological Association (APA) is the leading scientific and professional organization in the field of psychology in the United States. There are over 122,000 researchers, educators, clinicians, consultants and students as its members.
APPIC Internship Matching – Before receiving a doctoral (and sometimes Master's) Degree in Psychology, students must complete a supervised internship. The process of finding this internship is called the APPIC Internship Matching Program (the "Match").  Applicants are placed into appropriate psychology internship positions at training sites throughout the United States and Canada.
The Association of State and Provincial Psychology Boards (ASPPB) – ASPPB is an international association of psychology licensing boards in the United States and Canada. The association creates and maintains a standardized written exam, the Examination for Professional Practice in Psychology (EPPP), which is used by most psychology licensing boards to evaluate candidates for licensure and certification.
Basecamp.com – An excellent organizational tool for both students and professionals. The site helps you keeps track of projects, papers, assignments and more.