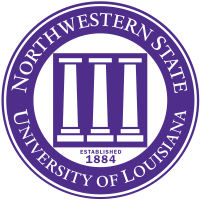 Psychology & Counseling at Northwestern State University of Louisiana
Northwestern State University of Louisiana appears in our ranking of the 30 Most Affordable Bachelor's in Applied Psychology Online.
Northwestern State University of Louisiana has five programs available for students interested in studying psychology and counseling. Options from the Department of Psychology & Addiction Studies include a Bachelor of Science in Addiction Studies, a Bachelor of Science in Psychology, a Master of Science in Clinical Psychology, and two minors in psychology and addiction studies. From the Department of Education, students may also enroll in a Master of Arts in Counseling.
Within the bachelor's degree psychology program in addiction studies, required classes include Introduction to Addictions Disorders, Case Management, Pharmacology of Addiction, and Ethics for Addiction Professionals. For the degree in psychology, students will take classes like Introduction to Psychology, Developmental Psychology, Physiological Psychology, and History of Psychology.
To complete one of the bachelor's degree programs in psychology, students must take 120 total credits. For students who elect to earn a minor in psychology, course requirements include completion of 21 credits. The addiction studies minor, on the other hand, requires completion of 18 credits. Students who pursue their Master of Science in Clinical Psychology will need to complete 42 credits, as well as pass a comprehensive exam, or write a thesis.
The MA in Clinical Psychology allows students to apply for a special scholarship meant for students interested in studying addiction counseling. The scholarship is offered by the Substance Abuse and Mental Health Services Administration and represents a possible grant of up to $20,000 for eligible students. Students in the clinical psychology program will spend two years or six semesters earning their degrees.
Some of the courses students will take in the graduate program include Theories of Psychotherapy, Psychopathology, and three classes in psychological research with the topics of methods, advanced application, and design & evaluation. It is expected that students will take a class during the summer between their first and second years in the program.
The final degree option for students is the Master of Arts in Counseling, which is a 60-credit program that offers possible concentrations in Clinical Mental Health Counseling and School Counseling. Students will take about half of their classes online, and the other half of the classes will require face-to-face instruction. Classes required of students include Group Process for Counselors, Theories of Counseling, and Career & Lifestyle Planning.
About Northwestern State University of Louisiana
Northwestern State University of Louisiana was founded in 1884 and is located in Natchitoches, Louisiana. The rural campus covers 916 acres, and the school also operates an additional campus for nursing students in Shreveport and satellite campuses in Alexandria and Leesville. The university is a member of the University of Louisiana System, and it's also a public school. The motto of the university is "Dedicated to One Goal. Yours."
Around 11,000 students attend the university, which was once known as the Louisiana State Normal School. The university has the distinction as having offered the first programs in business and nursing in the state. The school first attained university status in 1970 when many other schools in the state were also elevated to universities. The university has produced more than 70,000 alumni, and it's also a member of the NASA Joint Venture Program for space research.
Northwestern State University of Louisiana Accreditation Details
Institutional accreditation for Northwestern State University of Louisiana has been granted by the Southern Association of Colleges and Schools Commission on Colleges (SACSCC). The university is reaccredited once every decade and must meet several operational and educational standards to maintain its regional accreditation status. Students can contact the school directly or the SACSCC with questions about accreditation. There are also some programs within the university that have earned programmatic accreditation from national organizations.
The American Veterinary Medical Association has accredited the bachelor's and associate degrees in biology with a concentration in veterinary technology. The Association for the Advancement of Collegiate Schools of Business International has accredited several programs in accounting, computer information systems, and business administration. The hospitality degree is accredited by the American Association of Family and Consumer Sciences.
Northwestern State University of Louisiana Application Requirements
Applying to Northwestern State University of Louisiana starts with the official application for admission, and the college also recommends that students apply for scholarships. The application is submitted online, and students will also submit their standardized test scores to the university. The test scores should come directly from the testing agencies. The university also requires submission of high school transcripts and immunization records.
For graduate students, the application process is similar but requires evidence of a bachelor's degree. After submitting the official online application for admission, prospective graduate students will submit their official college transcripts, immunization records, and scores from the GRE. Graduate students must also submit two letters of recommendation and a $25 application fee. Graduate students can also apply for assistantships.
Tuition and Financial Aid
Tuition for full-time enrollment at Northwestern State University of Louisiana at the Natchitoches campus is $2,590 per semester. Out-of-state students will pay an additional out-of-state tuition fee of $5,394. Registration fees come to a total of $1.331, a student association fee adds $273, and a health services fee adds another $96. Housing on campus costs $3,551, and a meal plan costs between $750 and $1,929. Commuter students can also buy a meal plan.
Students who attend the university exclusively online will pay $375 per credit hour for undergraduate classes and $475 per credit hour for graduate classes. Students who enroll in more than 12 credits of undergraduate classes will pay $100 for each additional credit. Students who enroll in more than nine credits of graduate classes will also pay $100 for each additional credit.
Students may be eligible for federal student loans, but there are some eligibility requirements that enrollees must meet in order to enroll. Eligibility requirements include being enrolled in a degree program, having a high school diploma, and being a U.S. citizen. During enrollment, students must also make Satisfactory Academic Progress (SAP) and not be in default for any educational loans.
Scholarships are available for students of high academic achievement and athletic performance, and students may apply for scholarships online through the university's foundation scholarship form. Like financial aid offered through the federal government, students must also make appropriate progress in their degree program at Northwestern State University of Louisiana to maintain awards each year.