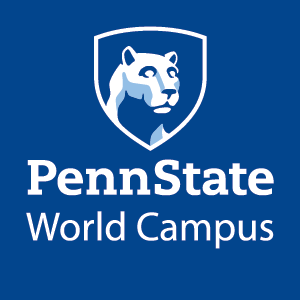 Counseling and Psychology Programs at the Pennsylvania State University World Campus
Pennsylvania State University World Campus appears in our ranking of the Top 25 Master's Degrees in Industrial and Organizational Psychology Online.
The Pennsylvania State University World Campus is a branch of Penn State that operates entirely online. It offers multiple programs for students who want to study psychology, including an Associate of Science in Human Development and Family Studies. This program looks at the family unit as a whole and how people grow and develop over time. Students can choose a track in children, youth and family services or adult development and aging. Some of the required classes in both tracks include Introduction to Human Development and Family Studies and Introduction to the Biology of Aging. Both tracks also include an internship requirement.
Undergrads can also complete a Bachelor of Science or a Bachelor of Arts in Psychology through this online university. Those in the science program must take 50 credits of psychology classes and 13 credits of electives as well as 24 credits of support classes, which will include five business courses. The arts program allows students to skip the business courses and take more psychology classes. Majors in both programs will take classes that include Basic Research Methods in Psychology, Senior Seminar in Psychology and Psychology as a Science and a Profession. The university allows 10 psychology majors to do an internship each semester and awards them three credits for doing at least 120 hours of fieldwork.
At the graduate level, the university offers a Master of Professional Studies in the Psychology of Leadership, which looks at how students can become more effective leaders as they use psychology concepts. This program includes nine credits of required classes, 15 credits of electives and a culminating experience that is worth three credits. This experience allows students to do volunteer and professional work in a supervised setting. Some of the courses in this graduate program include Foundations of Behavior, Motivation and Attitudes at Work, Diversity Leadership and Psychology of Leading Work Groups and Teams.
To help students achieve their goals, the university also offers some online certificate programs that students can do with or in lieu of a degree program. Undergrads can study children, youth and family services, adult development and aging or labor and human resources. The fundraising leadership and human factors engineering and ergonomics may appeal to graduate psychology majors.
About the Pennsylvania State University World Campus
The Pennsylvania State University World Campus is an online campus owned by Pennsylvania State University. During the early days of that university, it offered correspondence classes that included workbooks with assignments that students completed on their own time and mailed back for credit. This program would eventually inspire the university to launch online programs in 1998. It spent several years designing a curriculum that included the same opportunities for online students that others had on one of its campuses.
Also called Penn State World and Penn State Online, the university now offers more than 150 programs for online students, including options at the undergraduate and graduate levels. U.S. News and World Report named Penn State Online as one of the five best online bachelor's choices and one of the top four online schools for graduate students. It also ranked the university as one of the best online programs for veterans and for having one of the best online education programs.
Pennsylvania State University World Campus Accreditation Details
Though the business programs offered by the university have accreditation, its psychology programs do not. Penn State World has regional accreditation though that lets students transfer their credits when they move to another college and bring credits into a Penn State psychology program. That accreditation comes from the Middle States Commission on Higher Education (MSCHE). It also allows students who need financial aid to attend the university use the Free Application for Federal Student Aid (FAFSA).
Pennsylvania State University World Campus Application Requirements
High school graduates and those with a GED can apply to any of the university's undergraduate programs. They have until June 30 to complete the online application and start the program in the fall. There is an application fee that they can pay online too. Also required is a transcript from the student. Those who want to transfer credits into a psychology program need to provide college transcripts as well. Penn State World recommends that students check the technical requirements before they apply to make sure they can use its online system. Both of the bachelor's programs ask that students take four prerequisite courses or take those classes before the program starts too.
The psychology of leadership graduate program also asks that students pay an application fee and submit an application, but it will only accept those with a bachelor's degree from a school that has recognition from the Department of Education such as regional accreditation. Students need to have at least two years of professional experience in the psychology field and a minimum GPA of 3.0 when they apply. The university will occasionally accept those with a lower GPA but only if they have more experience. Students need to submit a resume, statement of purpose and three references. The statement of purpose should be no longer than three pages.
Tuition and Financial Aid
Undergrads at Penn State World pay $555 per credit hour if they take fewer than 12 credits or $6,742 per semester if they take more than 12 credits. Once students take 60 credits, their costs will increase to $596 per credit hour for part-time enrollment and $7,297 per semester for full-time enrollment. They also pay a technology fee that ranges from $86 to $252 each semester. Graduate students pay the same technology fee and a tuition rate of $886 per credit hour for part-time enrollment or $10,634 per semester for full-time enrollment.
Though Penn State World has payment plans, it encourages students to apply for aid before looking at those plans. Students who transfer to the university and new students can qualify for grants and get access to government loans too. Those accepted to the university who completed the FAFSA can also apply for the scholarships designed for online students. Students can receive both scholarships from the full university and scholarships from the online campus. Some of these programs provide graduate students with funding too. The Pennsylvania State University World Campus offers financial aid for students in all of its psychology programs.