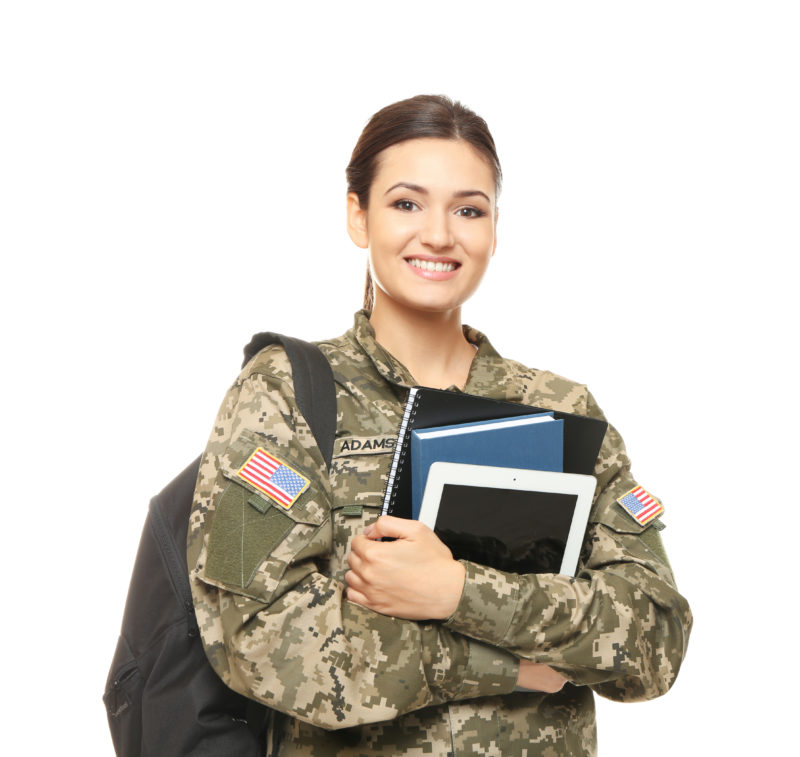 One of the most increasing populations of "non-traditional" students is the growing mass of service men and women. The GI Bill affords veterans of the armed forced the ability to earn a college degree paid for by the United States government. Another group actively pursuing college credits are active service members. With the rise of online learning and other flexible learning formats, more and more people in the military have the ability to complete college credits while actively serving.
Online College Degrees for Service Members
The most convenient way for active service members to earn college credits and even a college degree is through online learning formats. In years past, online college degrees were only available through non-accredited colleges that were viewed as "degree mills." Earning a degree from one of these schools was not viewed as having the same prestige as a brick and mortar program. As technology has advanced dramatically and the respect of online programs has grown, many more highly respected colleges and universities have started conferring online only degrees. One of the driving forces for this move was to give service members the ability to complete college courses while serving actively, either on home soil or overseas. In the early stages of this transition the degrees offered online were largely associate's and bachelor's degrees in a limited number of areas. As the online college education system grew the array of program areas grew as well as the degrees that can be earned. Now it is not uncommon to earn a master's or even doctoral degree online.
CLEP Credits
Another way that active service men and women can earn college credits is by completing CLEP credits. CLEP stands for College Level Examination Program. This program allows students to learn on their own time using textbooks, the internet and other resources to prepare for an examination that, if passed, leads to college credits. This allows those in service to learn on their own time and complete the examinations when they return home from active duty.
Flexibility in Learning for Military
There is a great deal of flexibility for those pursuing a degree while enlisted. Most colleges now take great strides to make online learning accessible and convenient for military members. In many cases due dates, exams, papers and class time can be adjusted to meet the needs of the individuals service.
Top Military Friendly Schools
According to Military Times Magazine's website, the following schools are their top five schools for offering online programs to those in the military.
#1 – ECPI University – Located in Virginia Beach, Virginia
#2 – Park University – Located in Parkville, Missouri
#3 – Central Texas College – Located in Kileen, Texas
#4 – University of Maryland – Located in Adelphi, Maryland
#5 – Liberty University – Located in Lynchburg, Virginia
Top Schools for Veterans
According to US News and World Report, the following are the top six schools in the United States for veterans.
#1 – Princeton University – Located in Princeton, New Jersey
#2 – Harvard University – Located in Cambridge, Massachusetts
#3 – Yale University – Located in New Haven, Connecticut
Tied for #4 – Columbia University – Located in New York, New York
Tied for #4 – Stanford University – Located in Stanford, California
Tied for #4 – University of Chicago – Located in Chicago, Illinois