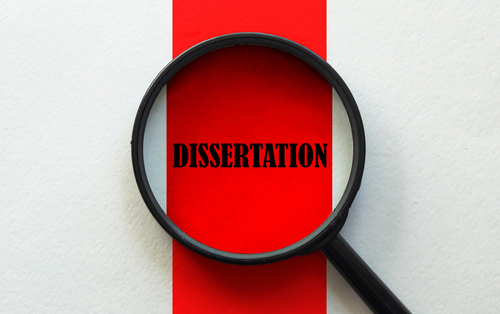 Most graduate programs in psychology require students to complete a thesis project or dissertation as part of the course of study. The specific details of each vary from school to school but there are some general differences that will be found across colleges in regards to a thesis or a dissertation.
What is a Thesis?
A thesis is a project that is completed during the course of a master's degree program in many fields. In psychology students will be asked to complete one of two types of thesis projects. The first (generally in a Master of Arts degree program) is a literature review on a specific topic that is relevant to the field of psychology. In this type of project, the student will use existing research or data on their topic and evaluate the topic across a time period. There are many different topics that students can choose from. The second type (generally in a Master of Science degree program) is where a student will either conduct their own research or participate in ongoing research with a faculty member and write a thorough scientific paper on the study and their findings. In many cases, students will have the opportunity to present their research at a presentation or submit it for publication.
What is a Dissertation?
A dissertation is conducted during the course of a doctoral program for those pursuing a Doctor of Philosophy in Psychology. A dissertation starts with a topic of interest in the field of psychology. The study will work with their faculty mentor to design and implement an ethical study to investigate their topic. Their findings are turned into a scholarly paper that will often be submitted for publication or presentation. After the paper portion is complete, the doctoral candidate will then go before a board of professionals and instructors to "defend" their thesis. They will present their material and answer probing questions from the panel. Those pursuing a Doctor of Psychology (PsyD) can complete either a traditional dissertation or a thesis-like literature review, depending upon the requirements of the program.
What Are the Major Differences Between a Thesis and a Dissertation?
The major difference between these two is the level at which they are completed. A thesis is traditionally a mater's level project, while a dissertation is complete at the doctoral level. Another difference is the level of intensity in the project. Thesis projects are generally completed over the course of 1-2 semesters. Dissertations can take upwards of a year to complete.
What Are the Similarities Between a Thesis and a Dissertation?
There are also some similarities between the two. Both projects involve an thorough investigation of a topic in the field of psychology. They also both require the student to complete a lengthy, and scholarly paper. Students at both levels can choose to submit their work for publication or presentation.