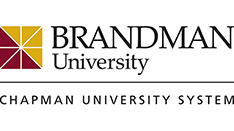 Brandman University's Wide Range of Psychology and Counseling Degrees
Brandman University appears in our ranking of the Top 25 Master's Degrees in Marriage and Family Therapy Online.
Students who want to earn degrees in psychology and counseling could find a program with just the right "fit" at Brandman University. All programs at this school can be taken in a blended format, completely online or in the Brandman "My Path" which is a flexible non-term online program allowing adults to progress at their own pace.
The BA in Psychology, offered as a hybrid or online, is intended to prepare students for graduate study. Students choose one of five concentrations ( Pre-Clinical, Industrial/Organizational, Child Psychology, Gerontology or Generalist). The degree program emphasizes theory, critical thinking, research methodology, and principles of psychology and their application. It includes the university requisites plus 76 credit hours of core and concentration courses such as Human Development Across the Lifespan and Social Psychology.
The Minor in Psychology comes in two tracks. The Generalist Track is a broad overview of psychology and its application. The Applied Psychology track allows students to create a program choosing five electives from upper-level psychology classes. The minor contains 18 credit-hours.
The MA in Psychology, Counseling contains 48 credit-hours. It includes foundational courses like Psychological Assessment and Research and Bibliographic Techniques. There are sets of courses dealing with areas of counseling including Adult Counseling, Marriage and Family Studies and Multicultural Counseling and Techniques. The program also covers specialized issues such as Psychopharmacology and requires two practicums and a capstone case study.
The MA in Professional Clinical Counseling is a 63-hour program that includes a 15 credit-hour foundational component plus courses in Marriage Therapy/Domestic Violence, Multicultural Counseling and Techniques, and Adult Counseling. IT meets the requirements for licensure as a professional counselor in California.
The ED.S. degree is offered through the College of Education but is a school counselor degree that can be earned with specializations in Applied Behavioral Analysis, Autism, Crisis Management, and other concentrations.
About Brandman University
Brandman University was established in 1958 by Chapman University. Chapman had existed since 1861 and had an excellent educational reputation. Originally Brandman, then known as Chapman University College, was created to benefit the El Toro Marine Corps Air Station in Irvine, California. In 2009, the school became a separately accredited institution and assumed its current name.
The school uses an educational pattern known as IDEAL. The acronym stands for Instructional Design for Engaged Adult Learning. The university focuses on the non-traditional student who may be attempting to earn a degree while working full-time. Classes are taught in a hybrid format ( online and on-campus), completely online or in the "My Path" format which allows students to progress at their own pace, is competency-based and has no set school terms. There are more than 53 degree programs and certifications available through the school. While Brandman is unranked by the US News and World Report in Regional Universities-West, it ranks as #6 in Most Innovative Schools.
Brandman University Accreditation Details
Brandman University is accredited through the Western Association of Schools and Colleges of the Higher Learning Commission.
Brandman University Application Requirements
All application to this school is made online. Students applying to the school as first-time freshmen create an application account and proceed to complete the online form presented there. They should also submit a high school transcript and the official scores of the SAT or ACT tests and any other requested materials. This additional documentation should be mailed, emailed or faxed with the exception of the transcripts and scores which must not be faxed.
Graduate students applying to the university can qualify for admittance by meeting GPA standards, possessing a previously-earned master's degree or sending a portfolio consisting of letters of recommendation, writing samples, a resume and a personal statement detailing why they believe they are a good candidate for graduate studies. They should also include their GRE, MAT or other applicable test score and any other documentation required by the department which houses their degree program.
Tuition and Financial Aid
Tuition at Brandman is charged per-credit-hour. Undergraduate programs are $500, except for active-duty military personnel and their spouses. Their cost is $250 per-credit-hour. Graduate tuition is $650 per-credit-hour, and military personnel pays $400. Doctoral programs in education are $995 per-credit-hour, and those in nursing are $1,135.
Students earning degrees through the "My Path" program pay a specific cost for billing periods. Each billing period is currently $3,200.
Students must remember that the school charges additional fees, and there are other costs. Most students earn their degrees online or commute (there are more than 25 campus locations) so room and board costs are not calculated, but transportation costs and other expenses, books and supplies must be budgeted for.
Most students need help to meet these obligations. The federal government offers the FAFSA (Free Application for Federal Student Assistance) that uses financial information submitted by students to qualify them for grants that do not have to be repaid, loans and work-study opportunities. Students who are eligible for FAFSA grants are usually eligible for many other types of assistance as well.
California has some state monies available too. There are two Cal Grants for students and the Chaffee Foundation has a grant for young people coming from the foster care system. The university has scholarships available in each of its colleges. For instance, there are scholarships for students entering Brandman's Master of Social Work program and for incoming or currently enrolled students who want to earn a paralegal degree. There are scholarships funded by organizations and individuals for students graduating from local high schools, and opportunities for students in certain populations, such as Native American or women students in engineering. Corporations also fund scholarships for people studying for specific occupations. Because Brandman focuses on adult learners, the school also encourages students to investigate employer education benefits.
Students who still have debt after applying all their grant and scholarship money may take out student loans. Many of these are government or school-funded, but some are available through private lending institutions. Part-time jobs and work-study are other methods of financing a degree program that should not be overlooked because they provide invaluable work experience and add to resumes. A thorough search of the school website and an Internet scholarship search will provide many ways to pay for a degree program at Brandman University.