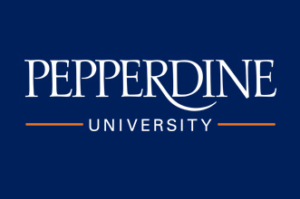 Pepperdine University Degree Program(s) Available
Pepperdine University appears in our ranking of the Top 25 Master's Degrees in Marriage and Family Therapy Online.
Undergraduate Psychology
Pepperdine University offers an undergraduate program in Psychology that provides students with an understanding of human behavior. Students gain an understanding of how organisms learn, the effects of hormones on behavior, personality, behavior motivation and more. The program includes information on the foundation of psychological principles and methodology designed for entry-level positions as psychologists or therapists. Courses required include:
Abnormal Psychology
Body Image and Eating Disorders
Child Clinical Psychology
Cognitive Processes
Counseling Theory and Techniques
Cross-cultural Psychology
Family Therapy
Foundations in Psychology
Health Psychology
Industrial/Organizational Psychology
Intermediate Statistics and Computer Applications
Interpersonal Behavior
Introduction to Psychology
Introductory Statistics
Latino Psychology and Society
Lifespan Development Psychology
Personality
Positive Psychology
Psychology and Religion
Psychopharmacology
Physiological Psychology
Principles of Learning
Psychological Testing and Assessment
Psychology of Gender
Research Methods in Psychology
Social Psychology
Psychology Graduate Degrees
The Master of Arts or Master of Science in Psychology provides a thorough understanding of the principles of psychology. The Master of Arts has a strong focus in the liberal arts while the Master of Science has a strong focus in math and science. The program has a strong clinical focus in order to prepare graduates for leadership roles in psychology. The program is available at the Encino, Irvine or West Los Angeles campus although some requirements may be offered online. Courses required include:
Diagnosis and Treatment of Mental Health Disorders
Assessment of Intelligence
Personality Assessment
Interpersonal Skills and Group Therapy
Social Psychology
Theories of Personality
Theories of Counseling and Psychotherapy
Multicultural Counseling
Techniques of Counseling and Psychotherapy
Career Development Theory and Techniques
Community/Clinical Research and Service I & II
Also offered is an online Master of Arts in Clinical Psychology with an Emphasis in Marriage and Family Therapy (MFT) that prepares graduates to help individuals, families, and couples with life's tough problems.
About Pepperdine University
Pepperdine College opened in 1937, just seven months after construction began. The school as the vision of George Pepperdine, founder of the Western Auto Supply Company, who wanted to create an institute of higher learning with a strong Christian focus. The school as built in the Vermont Knolls area of Los Angeles on what was formerly a 34-acre estate. An 18-room mansion was converted into a woman's dormitory, administration building, and dining hall. All buildings on campus were painted light blue, later to be known as Pepperdine Blue.
The first graduate degree, the Master of Arts in Religion, was the first offered at the school in 1944. Enrollment grew quickly after World War II as soldiers returned home and took advantage of the G.I. Bill. In 1958, a satellite campus was created in Okinawa, allowing military personnel stationed there to complete their degrees. In 1968, another satellite campus was built in Malibu on land donated by Merritt H. Adamson, Sylvia Rindge Adamson, and Rhoda-May Adamson Dallas. In 1981, the Los Angeles campus was closed and is now used by the Crenshaw Christian Center church.
Today, Pepperdine still offers programs that are steeped in Christian values. US News & World Report ranks Pepperdine 25th among its list of Best Value Schools. Kiplinger ranks the school ninth in its list of Best Value in the West list. Pepperdine is ranked tenth among the Most Entrepreneurial Universities by Forbes while Princeton Review ranks the school as the fifth most beautiful campus and the 11th most popular study abroad schools.
Pepperdine University Accreditation Details
Pepperdine University is accredited by the Western Association of Schools and Colleges, Senior College and University Commission. Accreditation indicates that the school offers students an excellent education and that the Commission periodically reviews Pepperdine to confirm they continue to meet or exceed criteria determined by the Commission. Pepperdine agrees to address any areas that the Commission determines needs improvement during that periodic review. In addition, specific programs at Pepperdine are accredited by the following organizations:
Academy of Nutrition and Dietetics
Accreditation Council for Education and Nutrition Dietetics
American Bar Association
American Psychological Association
Association for Computing Machinery
Association of American Law Schools
Association of Professional Schools of International Affairs
Association of Public Policy Analysis and Management
Association to Advance Collegiate Schools of Business
California Commission on Teacher Credentialing
Committee of Bar Examiners, State Bar of California
National Association for Schools of Public Affairs and Administration
National Association of Schools of Music
Public Policy and International Affairs Fellowship Program
Pepperdine University Application Requirements
Applicants who have not earned college credit after high school graduation should complete the Common Application which requires official high school transcripts and letters of recommendation. Official SAT or ACT scores and an essay are also required.
Applicants who have earned college credit after high school graduation must also complete the Common Application and provide the necessary documents with the application. They must also provide official transcripts from all colleges and universities attended, a letter of recommendation and official ACT or SAT scores.
Applicants to the Master's in Psychology programs must complete an application for admission and provide official transcripts from all colleges and universities attended. One transcript must show the conferring of a bachelor's degree or higher from an accredited college or university. Two professional recommendations are required as is a statement of purposes, two to five pages, describing previous training and experience as well as current interests, goals, and reasons for applying to the program. Applicants whose undergraduate GPA is less than 3.0 must complete an Exception Request Form.
Tuition and Financial Aid
Full-time tuition for undergraduate studies at Pepperdine is $48,090 or $1,510 per credit hour. Tuition for the Master's in Psychology programs is $1,225 per credit hour.
More than 75 percent of students at Pepperdine receive some type of financial assistance ad the school awards more than $64 million in grants and scholarships each year. Undergraduates may be awarded scholarships, grants, loans or work-study programs. Graduate students may be offered loans, fellowships or assistantships. They may also obtain private scholarships. In order to qualify for any financial assistance, students must complete the Free Application for Federal Student Aid (FAFSA) and the form must be renewed on an annual basis.
Pepperdine University offers a strong liberal arts education based on Christian values. Programs may be available online, on-campus or in a hybrid version. Pepperdine University has been ranked highly by many national publications and continues to provide students with excellence in education, allowing them to move into new careers or advance in a current career while still remaining true to their Christian faith.