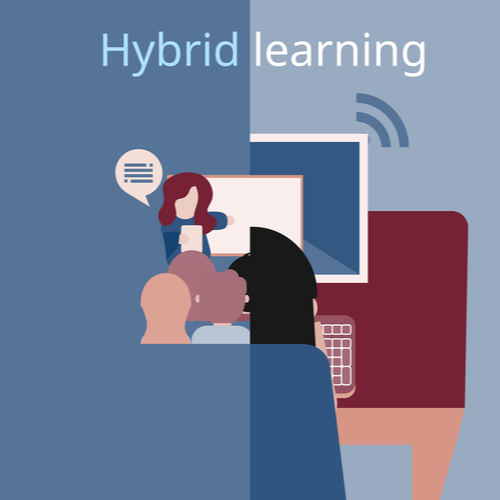 As more and more psychology degrees are being offered online, the phrases "Hybrid Learning Environment" and "Web Enhanced Learning Environment" are becoming increasingly common. So what do these phrases mean? These are both phrases used when the coursework for a degree program is offered partially online and partially in a classroom. While the curriculum in both programs is very similar, what varies is the degree of online to on-campus learning. This can vary greatly from school to school and program to program. While some schools may opt for a largely online program, others may prefer more face-to-face contact with a small degree of online work.
Hybrid Learning Environment
Hybrid Learning Environments or Blended Learning Environments are educational models that utilize the benefits of both online and on campus learning. In this learning environment students will complete a large amount of coursework through an online site developed specifically for their course. In addition, they will complete a portion of work in a more traditional face-to-face setting. While time spent in the classroom decreases, the amount of time working autonomously increases.
The goal is for students to have the flexibility of completing their work on their own schedule while also receiving the benefit of learning in a more hands-on setting. Many psychology programs are offered in this format because students in a more research focused area of psychology will need to conduct research and work with faculty directly. In a Hybrid Learning System, students are receiving the best of both worlds.
Web Enhanced Learning Environment
A Web Enhanced Learning Environment is an educational setting where online educational tools are used to enhance what is taught in a traditional classroom situation. In these programs, the ratio of on-campus learning is much higher than online learning. Typically in these programs, 20 percent or less of the coursework will be completed online. Many psychology programs are offering web-enhanced learning plans to students who may need a greater deal of flexibility than a traditional setting. By allowing students to complete some of their work online it slightly reduces the time spent in a classroom. Students can also utilize the many advanced tools available online.
As technological advances continue in online learning, a growing number of schools are offering students distance-learning options. It is important that each student weigh a number of issues surrounding their educational goals when choosing what learning style is right for them. The following considerations should be weighed carefully:
• Is the degree I am seeking offered in an online format?
• Am I self-motivated enough to handle a hybrid or fully online academic setting?
• Would I benefit from the face-to-face learning style accomplished in a traditional program?
• Do I need the flexibility of a hybrid or fully online program?
Once a student has weighed their options they can more effectively choose a learning style that works for their life, their schedule and their future career goals. Whether you pursue a traditional on campus setting, a web enhanced setting, a hybrid or blended setting or a fully online setting, there is a degree in Psychology that will help you achieve your academic and career goals.