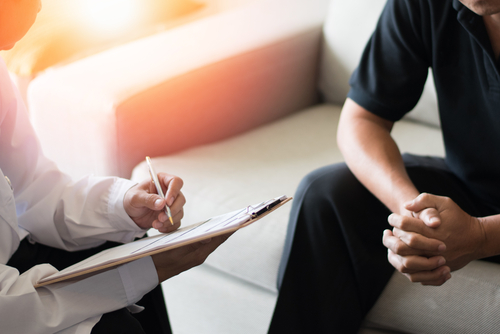 Do you want to become a clinical psychologist and work in the mental health field? Clinical psychologist vs. psychologist: What is a clinical psychologist? Clinical psychologists diagnose and treat mental, emotional, and behavioral disorders. They treat conditions like:
depression
bipolar disorder
anxiety disorders
mental health disorders
addiction
eating disorders
learning disorders
personality disorders
obsessive compulsive disorder
mood disorders
mental disorders
emotional disorders
psychological disorders
A mental health counselor and practitioners of clinical psychology use the principles and methods of psychology to identify the way disorders have affected a person's mental health and their life. Then they create a treatment course that will improve their client's mental health. Mental health counselors work to treat mental illness.
What Does a Clinical Psychologist Do?
What does a psychologist study? General psychologists study and categorize mental, emotional and behavior disorders. Clinical psychologists go a step further. A clinical psychologist helps clients overcome these disorders and improve their mental health and treat complex human problems. The psychological disorders that clinical psychologists treat may range from mild to profoundly incapacitating. To alleviate these disorders, a clinical psychologist will meet with their clients over weeks or months. The client's mental health issues are identified early in treatment. After that the client and psychologist work together to create a treatment plan. Psychological therapy is often referred to as talk therapy. It's based on one-to-one meetings between the client and the psychologist in which the therapist and client:
discuss the client's issues
identify the origins of those issues
develop ways to manage troublesome thoughts, feelings, beliefs and relationships
A clinical psychology job description includes the following:
Identify and diagnose psychological, emotional or behavioral disorders
Work with clients to identify their unique needs
Create and implement treatment plans that help clients to reach their goals, whether social, educational, emotional or personal
Monitor and reinforce client progress during regular sessions
Teach classes in stress reduction and anxiety management
Assist couples, families and groups to learn better coping mechanisms
Guide individual, group and family therapy sessions
Administer and evaluate psychological tests
Conduct behavioral assessment
Assess human behavior
Monitoring client progress through regular therapy sessions or meetings
Maintaining thorough records and charts of the client's progress
Coordinating care with other professionals assisting the client, such as doctors, social workers or psychiatrists.
Conducting family therapy if indicated
Conducting research and publishing findings
Performing psychological assessments
Is a clinical psychologist a medical psychologist? Clinical psychologists are not medical professionals and thus cannot prescribe medications. Instead, clinical psychologists use different approaches to therapy that are tailored to each client's specific needs, such as:
Cognitive-Behavioral Therapy (CBT). Cognitive-Behavioral Therapy is based on the idea that a person's beliefs about events and conditions are often more distressing than the events themselves. CBT helps a person identify cognitive distortions (ingrained, incorrect ways of thinking) that are making their lives unmanageable, as well as change those habitual thoughts.
Rational-Emotive Therapy (REBT). Somewhat like CBT, REBT's foundation is that our reactions to events are emotional and often immediately negative. We don't think about forming those emotions; they just happen as a function of being human. However, we then form beliefs derived from those notions. Those beliefs, although incorrect, become habitual, and we're stuck in a way of thinking and feeling that doesn't mirror reality. Changing these "stuck" feelings and thoughts leads to a more productive and enjoyable life.
Humanistic Therapy. Humanistic Therapy emphasizes discovering who you really are and becoming true to that person. Humanistic therapy is an excellent choice for helping people develop confidence and better self-esteem.
Existential Therapy. Existential therapy is a more philosophical approach to therapy that seeks to help clients find meaning in their lives.
The differences between a clinical psychologist and a clinical psychiatrist are fairly clear-cut. A clinical psychiatrist holds a degree in medicine and is a medical doctor. Psychiatry is thus a branch of medicine. Clinical psychology is an applied branch of psychology, the science of mental processes and behavior. Psychologists cannot prescribe medication. Sometimes a client will have both a psychiatrist and psychologist, with both professionals addressing different aspects of the client's well-being and mental health.
Becoming a Clinical Psychologist
If you want to become a clinical psychologist, you might be wondering if there is a clinical psychologist degree. Clinical psychologist requirements include a doctoral degree to practice, so the first step is to earn a four-year bachelor's degree. An undergraduate degree in psychology or sociology is usually the best choice toward clinical psychologists. However, many master's degree and doctoral program will accept another degree. After that, a master's degree is the next step, which leads to doctoral programs to earn a doctoral degree. However, many outstanding graduate programs in clinical psychology allow a student to go from completing a bachelor's program directly into a PhD supervised clinical training program. Those programs are very competitive.
There are two kinds of doctorates typically held by clinical psychologists: the PhD and the PsyD. The PhD (Doctor of Philosophy) is the more common of the two. It's rooted in research and focuses on the critical evaluation and performance of research. A PhD takes five to seven years to earn. PhD programs are very selective and enroll only a few new students every year. The PsyD (Doctor of Psychology) degree focuses on applied psychology, without the research focus of the PhD. A PsyD doctorate takes four to five years and often accept more students than PhD doctoral programs. The PhD in clinical psychology tends to be more flexible and offers more career paths that the PsyD.
A PhD in clinical psychology requires a year to three year long residency carried out under the supervision of a practicing PhD. Practicing as a professional psychology therapist also requires a license granted from the state. Certifications in areas of specialities can be granted through tests offered by state and national licensing boards. Most certifications require training beyond that needed for licensure as a clinical psychologist.
The Job Outlook for Clinical Psychologists
What is clinical psychology job outlook? Clinical psychology itself is a rapidly growing field that will see many job openings over the next decade. The job outlook for the next decade (2022-2032) for clinical psychology continues to be one of rapid expansion. It's a hot, rapidly growing field with an expansion rate faster than the national average, according to the Bureau of Labor Statistics Occupational Outlook Handbook. The average salary for a clinical psychologist is about $85,000 dollars a year, with the top ten percent of earners earning nearly $142,000 per year.
If you want to become a clinical psychologist, mental health professionals are in high demand. Clinical psychologists work in a clinical setting in private practice or in the public sector. You will enter a clinical psychology program, go through clinical training, earn a master's degree, continue into a doctoral program, and then enter professional practice. Mental health practitioners implement psychological treatment to help clients with mental illness, mental and behavioral disorders, substance abuse, and mental health problems. Clinical psychologists spend time helping people with their emotional health.
Clifton Stamp
B.S. Psychology | Arkansas State University
M.A. Rehabilitation Counseling | Arkansas State University
M.A. English | Arkansas State University
Related Resources: