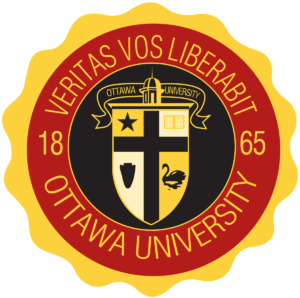 Counseling and Psychology Programs at Ottawa University
Students who want to study counseling or psychology at Ottawa University can choose from programs offered by the School of Arts and Sciences and other departments. Students take 120 units of courses in four years in the major, including Introduction to Psychology and Social Psychology. This helps them earn a Bachelor of Arts (BA) in Psychology. The university offers the psychology major online and on its campuses in Kansas and Arizona. Some of the other courses available for psychology majors include Fundamentals of Sport and Exercise Psychology, Gender and Sexuality, Disability as a Cultural Variable, Death and Dying, Psychopathology, Criminal Profiling and Research Design and Analysis.
Graduate programs include a Master of Science (MS) in Addiction Counseling designed for students who want to help people with substance abuse problems. Students will do two practicums and take 11 courses. They have a choice between working for hospitals and other nonprofit facilities or working for private organizations devoted to addiction counseling. Both online students and those on a university campus take the same classes, including Graduate Seminar: Clinical and Addiction Foundations, Introduction to Addictions, Addictions Counseling in Family Systems, Multicultural Concerns in Addictions Counseling and Appraisal, Assessment and Treatment Planning in Addictions Counseling. Their courses teach them how to identify the symptoms of addiction and decide how to treat their future patients.
In the university's Master of Arts in Education – School Guidance Counseling, students learn how to meet the requirements for school counselors and work with younger and older students. This program includes five foundation courses such as Theories of Trauma, Grief and Loss and School Counseling Changing Environment. The last required class prepares students for completing a thesis. They'll also do two practicums and take other courses for guidance counselors, including School and Cultural Concerns in Guidance Counseling and Group Counseling and Dynamics. Ottawa University also offers a Master of Arts (MA) in Counseling with concentrations in Christian counseling and professional counseling.
Students have the choice of earning graduate certificates from the university with or without earning a graduate degree. The behavior health counseling program looks at the treatment of individuals with mental health problems and includes 15 units of classes. In the gerocounseling certificate program, students learn how to counsel the elderly through courses such as Expressive Arts Therapies, Counseling Adults: Late Adulthood and Wellness Counseling: Risk, Prevention and Modification. The university also has a graduate certificate program in the treatment of trauma, abuse, and deprivation. It includes Clinical Assessment of Trauma and Children and Complex Trauma.
About Ottawa University
Ottawa University is a private university affiliated with the Baptist Church through American Baptist Churches USA. The First Baptist Church established a missionary training institute for Baptists in 1865, which would later become Ottawa University. Its early programs trained students on how to work with the Native American tribes in Kansas and nearby states and convert them to the Church. Those tribes helped the Church find 20,000 acres of land for a new college of which the school bought 5,000 for the campus. Originally called Roger Williams University, it later became Ottawa University or OU. OU has a main campus in Ottawa, Kansas and a second campus in Surprise, Arizona. It also has five smaller campuses in Wisconsin, Indiana, Arizona, and Kansas, and a large and active online campus. U.S. News and World Report ranks OU as one of the best colleges in Kansas and the Midwest.
Ottawa University Accreditation Details
OU has accreditation from the Higher Learning Commission (HLC), which is the regional accreditation needed for students who have financial issues. This accreditation lets them get government and institutional aid when they submit the Free Application for Federal Student Aid (FAFSA). Students in the counseling programs will take classes with approval from the National Addiction Studies Accreditation Commission (NASAC).
Ottawa University Application Requirements
OU accepts freshmen who either apply online or on one of its campuses and pay a $25 application fee. Students need transcripts that show their courses and grades as well as a grade point average. OU gives preference to those who completed a rigorous curriculum that included college prep classes. Students need to submit their ACT or SAT scores also. Transfer students need to submit their transcripts and write a short essay on the application. OU asks for a GED score from those who do not have a high school diploma and requires a score of 450 or higher.
Though OU has an application for graduate students, it has more requirements for those students and a higher application fee of $75. Students need to provide official undergraduate transcripts that show a GPA of 3.0 or higher and an admissions essay that also serves as a personal statement. This essay will cover two pages and include information about how a graduate degree from OU can help them and how they will support other students. OU asks for a resume that shows the student's professional and volunteer experiences, a list of any honors they completed or awards they won and three letters of recommendation. Students can send their records to the Ottawa University Office of Admissions.
Tuition and Financial Aid
At OU, undergrads pay $1,140 per credit hour or $13,675 each year based on whether they enroll on a full-time or part-time basis. The university charges $540 for some of the one credit hour classes that it offers and a $760 overload charge for students taking more than 18 units of classes. In the counseling programs, students pay a flat $599 per credit hour rate. OU offers parking passes for $250 a semester and housing for a minimum of $3,000 each semester. Students may also purchase a meal plan for $1,200 or more every semester and get health insurance for $1,500 a year.
Though OU offers financial aid, students can only get an aid package after they submit the FAFSA. Undergrads qualify for some of the OU scholarships based on need or merit, federal loans, and work-study. They may get one or more grants that come from the state or federal government too. Graduate students can also use federal loans and apply for some grants, but a small number of students will also receive jobs at the university too. Ottawa University offers the same financial aid for students in its online counseling and psychology programs.