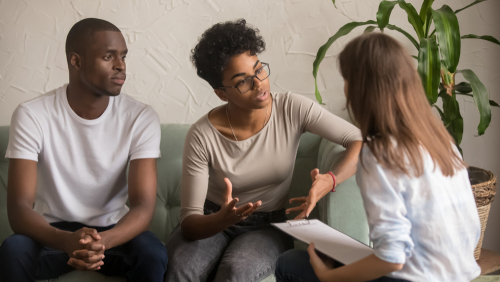 The commonly used psychological reference MFT stands for Marriage and Family Therapy (or Marriage and Family Therapist). Marriage and Family Therapists (MFTs) are mental health professionals who have received thorough training, at the graduate level, in psychotherapy and family systems. Upon completion of a rigorous, fully accredited training program the MFT may obtain licensure, which grants them the ability to diagnose and treat mental and emotional disorders within the framework of marriage, couples and family systems.
What Training is Required to Become an MFT?
Marriage and family therapists are highly experienced practitioners, with highly specialized training. MFTs must have graduate level training and secure either a master's or doctoral degree (depending upon state requirements) in marriage and family therapy and a minimum of two years of clinical experience. Each potential Marriage and Family Therapist must become familiar with the licensing laws in their state before choosing whether a master's or doctoral level degree is right for their academic needs.
What are the Responsibilities of an MFT?
Marriage and family therapists are responsible for evaluating and treating mental and emotional disorders, as well as other mental health and behavioral issues. The often address a wide range of relationship issues within the context of a family system. They widen the scope of the more traditional focus on the needs of an individual, instead focusing on the nature and role of individuals influenced by relationship networks such as within a marriage or a family. Many professional MFTs subscribe to a more multidisciplinary perspective to mental health concerns, focusing on the overall, long-term well-being of individuals and their families.
What Can Be Expected Within The Field of Marriage and Family Therapy?
The field of Marriage and Family Therapy is seen as one of the "core" mental health professions, along with psychiatry, psychology, social work and counseling. According to the American Association for Marriage and Family Therapy, since 1970 there has been a 50-fold spike in the number of licensed marriage and family therapists. At any given time this highly skilled group of professionals are treating more than 1.8 million people. According to the Bureau of Labor Statistics (BLS) Occupational Handbook, Marriage and Family Therapists earn an average annual salary of $51,730, with the top 90 percent earning $78,920.  The BLS also predicts that over the next ten years, the field of MFT will see an employment increase of 29 percent, which is much higher than the average 11-12 percent.
Resources:
American Association for Marriage and Family Therapy