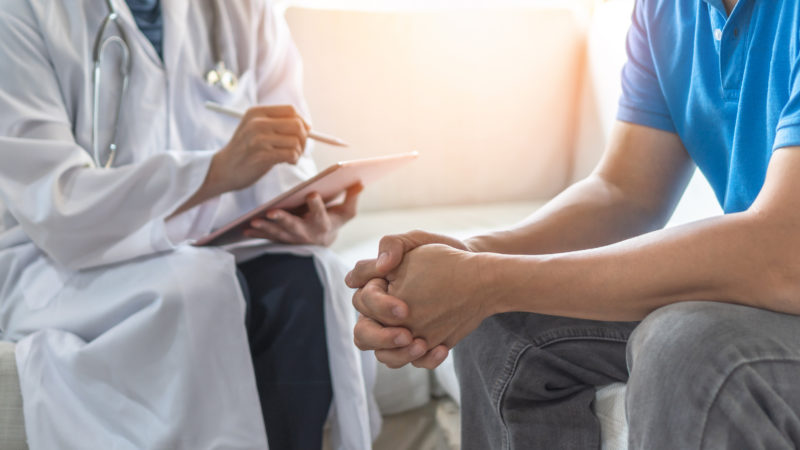 A Clinical Psychologist is often the image we conjure up when we think of a psychologist, therapist, or counselor. These highly skilled mental health professionals work with individuals, couples, families, and groups to work towards solving a problem, alleviating a stressor, or helping to manage a psychiatric diagnosis.
Related resource: Ranking Top 40 Doctoral Programs in Clinical Psychology
What are the Primary Responsibilities of a Clinical Psychologist?
Clinical Psychology is considered both a general health practice and a health service provider specialty in psychology. Clinical Psychologists provide professional therapeutic services for the diagnosis, assessment, evaluation, treatment, and prevention of psychological, emotional, pathophysiological, and behavioral disorders in individuals of all ages and levels of distress. Clinical Psychology practice involves understanding, forecasting, and improving intellectual, emotional, physical, and psychological distress, social and behavioral maladjustment, and mental illness, as well as other forms of stress.
Clinical psychologists can offer a range of professional services, including:
Conducting and interpreting psychological assessments
Conducting psychological research
Consultation with interdisciplinary teams in mental health settings, medical facilities, and other healthcare settings, schools and businesses
Development of preventative and treatment programs
Program administration
Provide psychological/ mental treatment
Teach at the collegiate level
Where Do Clinical Psychologists Typically Work?
Clinical Psychologists have one of the largest varieties in choosing where to practice. These professionals can be found in schools, hospitals, addiction treatment facilities, rehabilitation facilities, universities, governmental agencies, private practices, and many, many more.
What Training is Needed to Become a Clinical Psychologist?
The level of education to become a Clinical Psychologist varies depending upon the state in which you choose to practice. Some states allow Master's level clinicians to practice on their own. Other states require a Master's Degree as well as post-graduate training (internship, residency, etc.). While some other states require a doctoral degree in order to practice Clinical Psychology in the state.
How Much Money Can I Earn As a Clinical Psychologist?
According to the 2014-15 Occupational Outlook Handbook from the United States Bureau of Labor Statistics (BLS), the median national annual salary for clinical psychologists is $67,650. Salaries throughout the United States vary greatly depending upon further specialization within the field, region of practice, years of experience and several other factors.
Are There Any Professional Organizations for Clinical Psychologists?
The American Board of Clinical Psychology (ABCP) is a member Specialty Board of the American Board of Professional Psychology (ABPP). The requirements set forth by the ABCP for board certification in Clinical Psychology is intended to ensure that candidates have completed the educational, training, and experiential requirements of the Clinical Psychology specialty. This includes a performance examination created to assess the skills and knowledge necessary to provide quality services in the specialty of Clinical Psychology.
What is the Job Outlook in Clinical Psychology?
The Bureau of Labor Statistics predicts that employment of clinical psychologists will jump 15 percent by 2028 for 23,800 new jobs. The fast-growing U.S. field will expand from 162,000 to 185,800 clinical psychologists this decade. That's noticeably faster than the 11 percent growth expected for similar social scientists. Demand for clinical psychology is rising alongside an awareness of mental health conditions. Reduced stigma on mental illness is encouraging more people to seek clinical psychologists' help. Diagnoses for certain disorders, such as anxiety, have increased by more than 30 percent. Now, the Institute for Health Metrics Evaluation says about 971 million individuals globally have some mental disorder. Clinical psychology jobs are particularly abundant in California, New York, Texas, Florida, and Illinois.
What are Some Clinical Psychology Specializations?
As of May 2020, the American Psychological Association lists 247 accredited doctoral degrees in clinical psychology. Doctor of Philosophy (Ph.D.) degrees take a scientific, research-based approach to training clinical psychologists with a mandatory dissertation. Doctor of Psychology (Psy.D.) programs emphasize hands-on clinical work with more internships and fellowships than research. Both doctorates fulfill the clinical psychology licensing requirements in all 50 states. Within doctoral curricula, graduate schools often provide different degree specializations. Here are some common clinical psychology sub-fields that doctoral candidates can choose.
Child Psychology – Clinical child psychology is a specialization that centers on the mental health of young people from infancy to age 21. Child psychologists help kids cope with stress, traumatic events, puberty, and serious emotional or behavioral disorders.
Geropsychology – Clinical geropsychology is a specialization that's focused on improving the well-being of older adults over age 60. Geropsychologists apply clinical therapy methods to address "later life" problems, including grief, aging, dementia, and chronic pain.
Neuropsychology – Clinical neuropsychology is a specialization that's concerned with the correlation between brain activity and behavior. Neuropsychologists see patients of every age to treat brain disorders, such as epilepsy, Alzheimer's disease, stroke, and TBI.
Health Psychology – Clinical health psychology is a specialization that seeks to prevent injury and disease by advising clients on healthy lifestyle choices. Health psychologists help people lose weight, quit smoking, naturally manage pain, lower blood pressure, and more.
Forensic Psychology – Clinical forensic psychology is a specialization that aids the criminal justice system by determining the mental health of offenders. Forensic psychologists consult on legal cases and perform assessments to determine defendant competency during trials.
Multicultural Psychology – Clinical multicultural psychology is a specialization that serves a diverse clientele of various ethnicities, religions, and sexual orientations. Multicultural psychologists are experts at sensitively addressing issues related to culture and race.
Couple and Family Psychology – Clinical couple and family psychology is a specialization that focuses on repairing relational problems from substance abuse to divorce. Couple and family psychologists customize interventions to improve the home environment.
Sleep Psychology – Clinical sleep psychology is a new specialization recognized in 2013 to address cognitive and behavioral factors that affect sleep. Sleep psychologists treat patients with disorders like insomnia, sleep apnea, narcolepsy, RLS, and parasomnias.
Which Therapeutic Approaches Do Clinical Psychologists Use?
Clinical psychologists are highly trained to perform psychotherapy, or talk therapy, to overcome mental health challenges. Clinical psychologists may treat clients one-on-one, as couples, or in small groups. Most sessions last 30 to 90 minutes apiece. Clinical psychologists create a structured weekly schedule for ongoing support. Psychotherapy is all about an open dialogue for clients to safely communicate their thoughts and feelings. Patients can let out pent-up emotions and express hidden fears. Clinical psychologists then use several therapeutic approaches to change negative cognitive patterns. Replacing abnormal behaviors and thoughts with positive ones is the goal. Here are some different clinical therapy approaches they apply.
Cognitive Therapy – Cognitive therapy focuses on the mind to address what patients think and feel. Clinical psychologists use cognitive therapy when individuals are exhibiting a dysfunctional way of thinking. Cognitive therapy redirects irrational, disparaging thoughts for better well-being. It's helpful for treating anxiety, depression, and personality disorders.
Behavioral Therapy – Behavioral therapy centers on actions to change how patients conduct themselves. Clinical psychologists use behavioral therapy for people who exhibit negative, destructive behaviors. Behavioral therapy positively reinforces good behaviors with rewards to shape the patient's lifestyle. It's effective for disorders like anorexia, OCD, bipolar, and autism.
Psychoanalysis – Psychoanalysis digs deeper into the mind to uncover unconscious thoughts. Clinical psychologists use psychoanalysis for patients with repressed fears and conflicts that worsen symptoms. Psychoanalysis includes tactics like dream interpretations and inkblot tests. It's useful for panic attacks, PTSD, sexual disorders, and anger management.
Humanistic Therapy – Humanistic therapy takes a holistic, client-centered approach to help people reach their full potential. Clinical psychologists who use humanistic therapy believe every person is unique. Humanistic therapy applies one-of-a-kind, individualized interventions to boost self-esteem. It's often successful for schizophrenia, addiction, ADHD, and family issues.
Who Would Make a Good Clinical Psychologist?
Choosing a clinical psychology career is best for patient, compassionate people. Clinical psychologists need exceptional communication skills to describe treatment plans well. Being an attentive listener is key to hear what clients are suffering with. Clinical psychology demands the highest level of integrity to keep client information confidential. Psychologists in clinical settings need analytical skills to observe clients and read body language for a proper diagnosis. Problem-solving skills are inherently needed to reduce mental illness symptoms. Teamwork skills are essential to consult with other medical professionals treating the same clients. Writing skills are important to keep detailed client notes and intervention plans. Clinical psychologists must also be nonjudgmental and unbiased when dealing with sensitive issues.
How are Clinical Psychologists Licensed?
Since clinical psychology was founded by Lightner Witmer in 1896, it has become a licensed profession. Practicing clinical psychology independently requires a valid state-issued license. The Association of State and Provincial Psychology Board lists the exact requirements that vary by state. Generally, clinical psychologists need an accredited doctorate and one year of experience. Doctoral programs will usually include a year-long internship for 2,000 hours of supervised practice. Next, graduates need to register for the EPPP licensing exam. This two-part test is delivered at Pearson VUE proctoring centers. Each part has 225 questions to assess takers' clinical psychology knowledge and skills. Registrants currently pay a $600 examination fee. If passed, the test qualifies clinical psychologists to diagnose and treat therapy patients.
Clinical Psychology is a wide and varied sub-field of professional psychology. Students can choose a general Clinical Psychology education or they can further specialize into a narrower area of the field. A graduate-level degree in Clinical Psychology allows you a great deal of flexibility in how and where you can practice psychology.